Optimise capacity with ribbon fibre cable
---
By Joe Garzaniti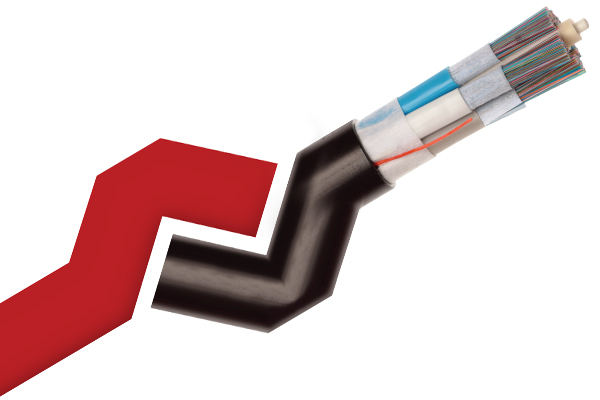 Many industries are increasingly reliant on high-speed optical networks to support day to day operations. Since the transmission protocols progress to higher and higher data rates, local area network (LAN) campus, building backbones and data centres are expected to employ cables with greater fibre counts, designed to meet the accelerating system bandwidth needs – making ribbon fibre cable an ideal solution for data centres or utility companies. Just what is ribbon fibre and how does it help optimise network capacity?
Both ribbon cables and conventional loose tube cables have been around for decades. Both products perform well in harsh outdoor environments, and both are available in a multitude of configurations. The primary distinction between the two is the way that the individual fibres are packaged and managed within the cable. A ribbon cable has the individual fibres precisely bonded together in a matrix or 'ribbon'.  Each ribbon can have between 4 and 24 fibres (typically bonded in a group of 12), placed inside a tube that holds multiple ribbons. In contrast, a loose tube cable design has between 2 to 24 individual fibres housed in multiple buffer tubes with each fibre detached from the other.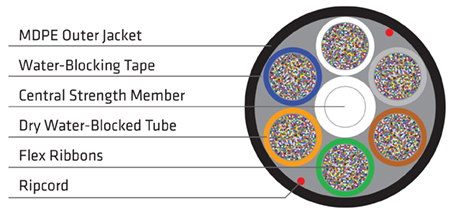 With this special cable structure, ribbon fibre cables enable mass-fusion splicing, with 12 fibres spliced in a single procedure for easier fibre management, faster network builds and quicker restoration following fibre cable cuts – saving time and money and importantly, minimising risk. With high density fibres you run the risk of having multiple customers on the one cable, increasing the impact if the cable is cut.
The advantages
They can be prepped and spliced much more rapidly than loose tube cables; since the cables are pre- installers and technicians can perform simpler, faster mass fusion stitching so that all fibres in the ribbon matrix can be stitched together at the same time meaning less installation time, less labour cost and significantly less emergency restoration time
They enable a smaller footprint in splice closures and telecommunications room fibre management
They offer greater packing density in higher fibre counts which enables more efficient use of limited duct space.
They increase the fibre density in a given cable, an attractive feature and benefit especially for data centres
They are typically very cost competitive in counts above 96 fibres
They mitigate risk by reducing the impact
These advantages are the reason that ribbon fibre is now being adopted by data centres and telecommunication networks across the country. With stringent Service Level Agreements and uptime requirements, such organisations must guarantee the performance of their networks with technology that delivers on the promise. Ribbon fibre ensures downtime is minimised due to the rapid re-splicing and minimises the loss between every splicing point.

Our partners
Alliance SI and Codecom have worked together for many years, combining our expertise to deliver outstanding results across product supply, installation and warranty support. Leveraging product partners like Prysmian, we can deliver our customers world class solutions at an affordable price.