The adoption of Software-Defined Networking in a Wide Area Network (SD-WAN) continues to accelerate at a rapid paced, with the implications of COVID-19 increasing the urgency for many companies over recent months. Well designed and expertly implemented, SD-WAN helps deliver improved application performance, simplified management, greater network visibility, reduced costs, more robust security and greater resiliency. But moving a whole-of-business network to SD-WAN while ensuring the company keeps operating as usual during the transition comes with its share of complexity and risks.
Combine this challenge with the choice of over 60 different market technologies and vendors – and how do you find the right solution and right partner for your business? Whether you are just starting the review process, or already planning your business transition to hybrid networking, we share some insights gathered from our years of experience implementing SD-WAN devices for companies across industry.
SD-What? Back to basics
Thanks to the Internet, we live in a digital age where (almost) everything is connected and accessible from anywhere. Despite their widespread adoption, however, traditional IP networks are complex and very hard to manage. It is both difficult to configure the network according to pre-defined policies, and challenging to reconfigure it to respond to faults, load and changes.
Enter Software-Defined Networking (SDN) – an approach in which networks are provisioned, managed, and programmed through software interfaces. SDN is intended to address the fact that static architecture of traditional networks is decentralised and complex to manage while current networks require flexibility and easy troubleshooting.
Software-Defined Networking in a Wide Area Network (SD-WAN) is the application of SDN technology to wide area networks. It simplifies the management and operation of a WAN by breaking the traditional vertical integration and separating the network's control logic from the underlying routers and switches ­–­ promoting (logical) centralisation of network control and introducing the ability to program the network.
SD-WAN enables the orchestration of a range of networking technologies, such as the Internet and LTE for transport-agnostic connectivity, easy deployment and central management. It's a cloud-scale, software-driven architecture that routes traffic around problems, ensures application performance, and adapts to changing conditions—all without direct IT intervention.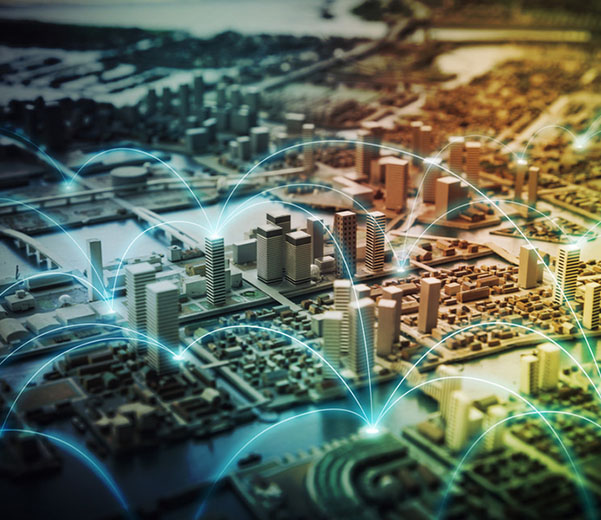 The rise of hybrid networks
The rise of SDN has created opportunities for businesses to use a mix of private and public internet networks for their site connectivity needs, using SD-WAN to orchestrate the process. According to Gartner, by year-end 2023, 60% of enterprises will have implemented SD-WAN, up from less than 20% in 2019, to increase network agility and enhance support for cloud applications.
Gartner cites the following influencing factors:
Shift in Enterprise WAN Topologies – by 2023, 30% of enterprise locations will use internet-only WAN connectivity, up from less than 10% in 2019, to reduce bandwidth's cost
Cloud and Multi-cloud Adoption – by 2023, more than 50% of large organisations will connect to cloud providers using direct cloud connectivity from their WANs, up from 10% in 2019
Use Cases Demanding High Bandwidth and Low-Latency Connections – through 2022, more than 75% of enterprises adopting a cloud-first strategy will continue to host business-critical applications in traditional data centre environments
Not a one-size-fits all solution
SD-WAN is not a one-size-fits-all solution. The right SD-WAN architecture design and deployment will help maximise the potential of your networks and enhance business agility; yet getting it wrong may mean disruptions during transitions and the potential to require an entire rebuild.
So while simplicity is one of the key benefits of SD-WAN, SD-WAN is a complex endeavour initially. Much of the work and resources required for SD-WAN deployments are front-loaded to get the design right and avoid problems occurring during roll out and operation and leveraging the expertise of specialists in this area is a must. Going forward, the ongoing management of multiple connectivity contracts, SD-WAN devices, WAN optimisation, reconfigurations, and monitoring can also impose a significant burden on IT teams and may be better managed through an outsourced team of specialists, especially for companies with limited or overstretched IT resources.
Top criteria for partnering right
Deep experience
SD-WAN is still a relatively new area, so it is important to find a provider with demonstrable experience with your type of organisation. The provider needs to understand what your existing network looks like as well as gather the right intelligence on all of your application requirements, to help ensure the underlay is optimised to support your new networking ambitions.
Security cred
If you are taking SD-WAN as a managed service, does your provider have the right level of assurance and appropriate alarming tools? Have they conducted penetration testing and security audits on the platform? Does the provider have its own security team or leverage another vendor to offer the services? Do they have a credible Quality Assurance process to manage issues with software?
Flexible migration
Many companies opt to test SD-WAN before a complete transition, perhaps initially targeting a handful of branch locations in a field trial. Look for a provider that supports a flexible deployment plan according to your requirements and/or timetable.
Focus on agility and cloud
As a form of virtualisation technology, it's natural that SD-WAN customers will use the technology for other forms of virtualisation, such as consuming network functions on demand. Your provider should offer adaptive network control that lets you scale capacity on demand, and easily manage virtual connections to cloud providers.
Ongoing support services
Consider partners that can complement the capabilities of tour internal team. Ideally, the right partner should work with you to design and configure the solution with a flexible deployment plan; they will offer ongoing monitoring and support with an efficient service desk; and they will function as a true technology partner to look for ways to enhance your IT and help drive better business outcomes through technology.
Best in field SD-WAN partners
Together with our accredited partner Vertel, Alliance SI brings years of experience and an enterprise grade solution for the design and deployment of SD-WAN. Powered by Nuage Networks from Nokia, our multi-tenant and scalable platform has been chosen by global players such BT, Orange, Telefonica, Telia, and Telusand Vodafone to name a few.
Full internetworking with L2/L3 services (SD-WAN + IP-VPN)
Supports SD-WAN seamlessly to DC / Public Cloud with flexibility for both DC Gateway (physical NSG) or virtual Host (NSG-V) deployment models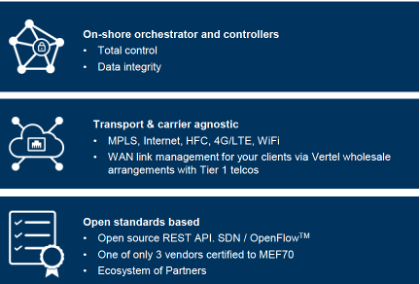 Contact us for a free, no obligation consultation today to explore the benefits of SD-WAN for your business.