If you are currently looking at rolling out a networking project with a significant copper cable component (ie Cat6 or Cat6a), you may first want to consider the validity of the quote or the cost of project delays as a result of escalating copper prices.
Historically, the price of copper has been relatively stable however an unprecedented surge in demand as a result of economies rebounding from COVID-19 has seen copper prices skyrocket to an all-time high in May of this year. The graph here shows the meteoric rise of copper pricing over the last 12 months – the effects of which is being felt throughout industries across the Asia Pacific and beyond.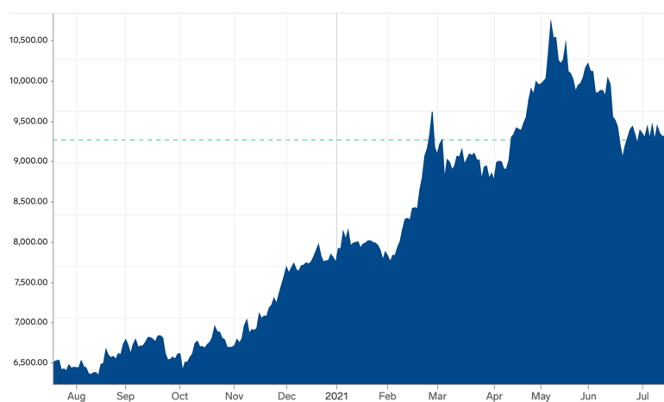 According to commodity strategists at Bank of America, the world risks "running out of copper" amid growing demand for the metal, paving the way for a spike in prices just as the global economic reopening gets under way. Demand is also being driven by the transition to clean energy – without copper there can be no decarbonisation meaning demand for copper where it relates to clean energy is set to grow strongly in the years ahead.
These factors combined see copper stocks at an all-time low, placing pressure on industries such as power generation, construction, factory equipment and electronics. While small fluctuations in cost are usually absorbed by vendors or distributors, the dramatic and prolonged price rise is now being reflected in escalating prices for copper cabling.
These pressures are being further impacted by escalating freight costs. China is dealing with its most widespread COVID outbreak since the initial cases in 2020, with lockdowns and port closures significantly slowing exports, leading to a domino effect in other countries and a slowdown for international carriers already at reduced capacity.
"As always, the purchasing team at Alliance SI is doing everything in our power to buy all products at the best possible cost for our customers" explains Steve de Mamiel, Head of Sales & Marketing. "We are working closely with our manufacturing partners like Panduit, to watch trends and compare cost options across the industry".
We recommend that all of our customers include the expected cost volatility and increases into their short and long-term materials planning and procurement activities. Contact your Account Manager to help identify product alternatives and options (such as fibre optic cable) which may help offset these industry-wide price increases and save you money in the long run.