Every day across the Asia Pacific, Alliance SI's expert Remote Hands service helps customers to deploy IT infrastructure or swiftly solve critical outages. Remote Hands gives our customers reliable, local on-site 24/7 support all around Australia and the broader Asia Pacific region.
Whether it's an urgent fix or planned preventative maintenance across multiple locations, our qualified technical team makes it simple for companies with remote sites or multiple locations to deliver efficient technical support.
The question we are often asked, however, is whether the costs of a Remote Hands service stack up against an internal team? The simple answer is yes! Over and above the obvious convenience of local resources that can respond immediately to an issue, Remote Hands is an extremely cost-effective way to help your business save money, perhaps more so with the changing expectations as a result of the pandemic.
Let's imagine a case in point – the WIFI network goes down in a remote regional location, impacting business productivity for the team; urgent help is needed. Below we compare the different implications around timing, costs, and health and safety between deploying a local remote Hands resource or an internal head office resource.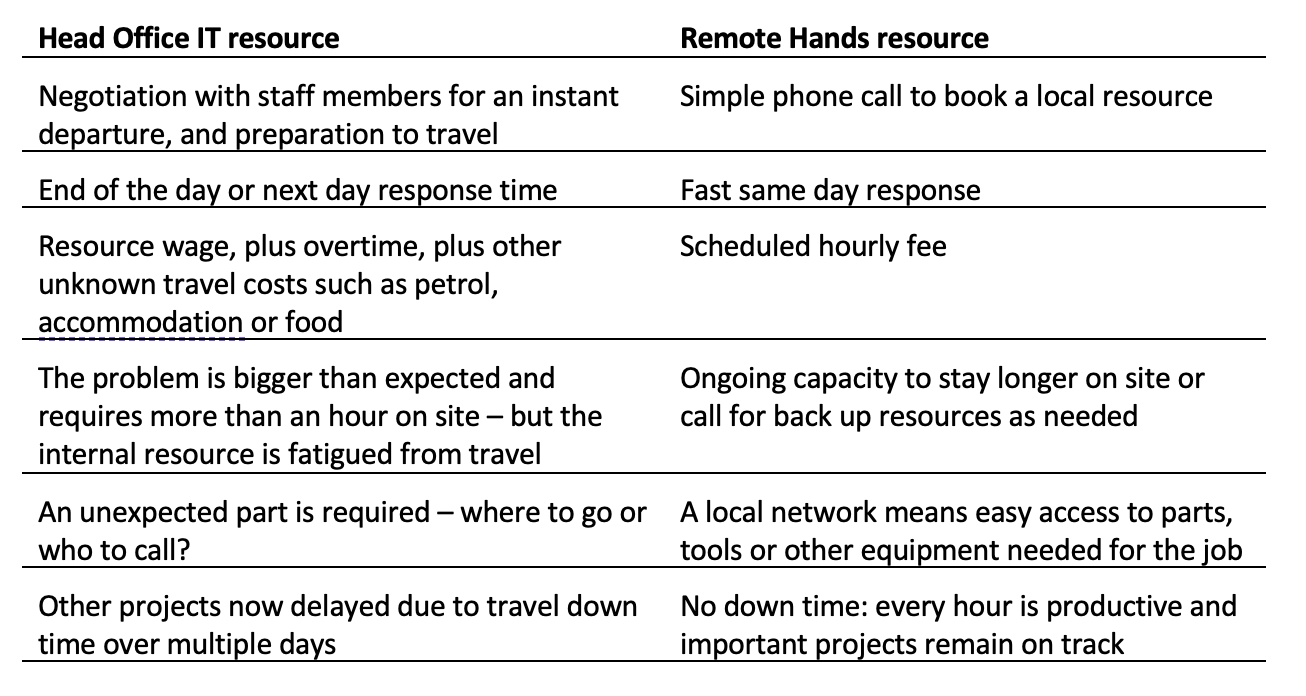 With so many organisations forced to deploy remote hands services due to border closures, savvy IT managers are starting to see the costs benefits firsthand, as regional challenges are being resolved swiftly, without impact on day to operations – and without the associated expense claims!
So, what is the true cost of 24/7 remote support to your business? Reach out to the experts at Alliance SI to learn more about the benefits and efficiencies of deploying their national Remote Hands team.