What is changing in the world of IT outsourcing? What impact has the global pandemic had, and what can we expect as a result? What emerging trends are shaping partnerships between clients and vendors? Last month we looked at redefining traditional outsourcing models to meet the evolving needs of today. This month we look at the trends that are set to shape the way we do business in 2021 and beyond. We spent some time reviewing reputable sources such as Technavio, ISG, Flexera and Gartner to gather insights into the top outsourcing trends and statistics slated for 2021.
2020 has changed the world in ways we could never have imagined. It made us all sit up and recognise that we are living in a highly volatile world where circumstances can change without any real notice or without our ability to intercede. However, 2020 has also taught us to be more resilient in the face of such change, and to better adapt and respond to crises such as the pandemic.
Such unmitigated change is of course challenging – for individuals and for businesses. Yet there are always those that manage to thrive in the face of change; those who pivot, adapt, flex or reinvent (whatever your word!) and who succeed in ways they perhaps never imagined before the crisis started. What lessons can we learn from these innovators to help out own success? Perhaps we can find answers in some of the following insights about how organisations are leveraging technology to optimise their service offering.
A game changer – cloud computing
According to the IT outsourcing statistics by Technavio, the value of the IT outsourcing market is expected to reach $486.16B by 2024 growing at 5% during 2020-2024. While companies across all sectors are accelerating their digital transformation, it is industries such as fintech, healthcare, and telecom who are most likely to leverage the benefits of IT outsourcing services.
This trend is also driven by the rise of cloud technology. Cloud computing has become a game-changer for many industries, giving access to services like storage and processing power to users on-demand. Through a pay-per-usage model, outsourcing providers can offer their IT infrastructure to paying customers for server, storage, and networking needs. According to Gartner, cloud system infrastructure services is expected to grow from $44B in 2019 to reach $81BB by 2022, as companies increasingly outsource the migrations, maintenance, security, compliance and day to day troubleshooting related to the cloud.
Tech specialisation – knowledge process outsourcing

The global pandemic has impacted IT outsourcing trends for 2021; specifically impacting business decisions and technology investments planned for the year ahead.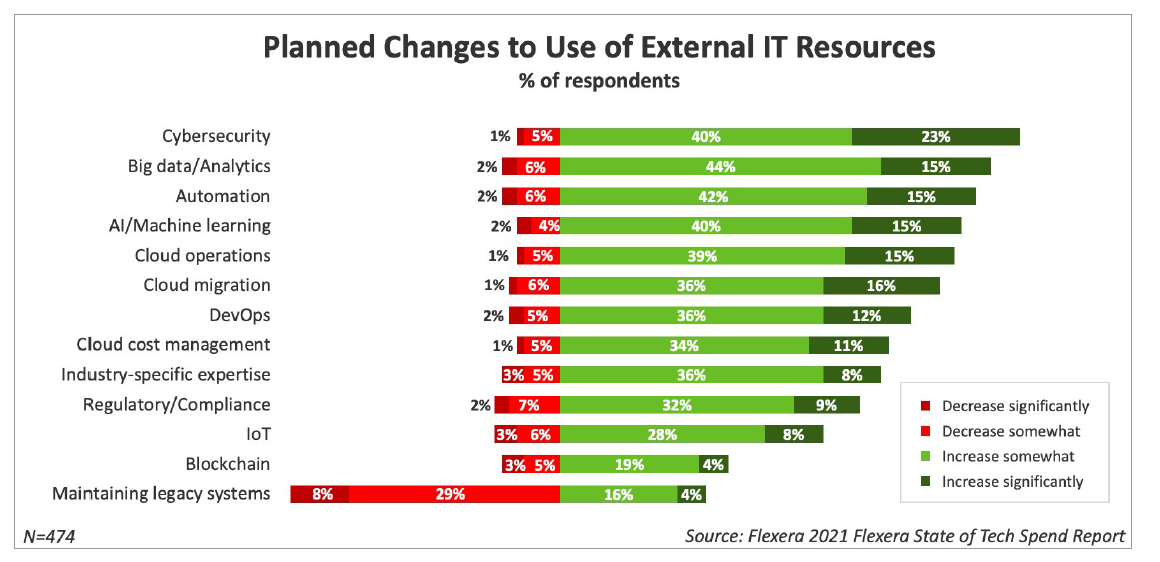 In the Flexera 2021 State of Tech Spend Report, this highlights the increase in the number of companies planning to outsource IT projects this year for the first time. Typical drivers, such as cost efficiency and a lack of in-house talent, remain the same yet the pandemic has brought specialisation areas such as cybersecurity and cloud operations to the forefront, fast tracking many company's timelines and driving a new demand for these specialised skill sets. Flexera show the top areas in which CIOs are turning to external partners for outsourced specialisation in these key areas, driving competition for these in-demand tech skills for the year ahead.
2021 will see outsourcing move towards knowledge process outsourcing, which provides highly skilled or specialised technical services.
Partner not vendor – the rise of strategic relationships
The demand for strategic partnerships is also on the rise. While in previous years there was a trend to outsource services within one project to multiple vendors, now we are seeing companies focus more on single vendor outsourcing partnership as they seek to avoid the headaches and risks associated with managing multiple vendors.
Building strong partner relationships with one vendor is emerging as a key trend for success in 2021. As supplier-customer relationships become more trustworthy, the difference between outsourcing core and non-core tasks will become less significant, allowing IT partners to increasingly cover any type of task needed to support the success of their client.
The new agile – adapt and change
In line with a strategic partnership approach, companies are expecting vendors to be more flexible across the board. IT providers must have the ability to ramp things up and down depending on the needs of their client – restructure teams, increase or decrease support, support a range of remote locations. Companies will also look for IT outsourcing partners who can accept their business ethics and adapt to it quickly. They will appreciate it if remote supply partners can easily integrate into their company and feel connected to the in-house team.
Furthermore, 2021 is going to be full of new regulations, and service providers need to be flexible enough to adapt. New regulations are already under debate – and we've seen the monumental impacts of recent changes to regulations impacting tech giants like Facebook.
For 20 years, Alliance SI has harnessed emerging technologies to improve business operations for our clients. With a team of technology specialists, we work alongside our clients to anticipate needs and solve complex problems. We have always understood the value of strategic partnerships, aligning with organisations that share our values and our ethos for success. Interested to learn how you can benefit from the emerging IT outsourcing trends for 2021? Contact us for a no obligation discussion.