Why Certification matters in Data Centre Cabling
---
By Alliance SI Insights
For many companies, the data centre is now mission critical. It's equipped with a network of servers, computers, routers and switches, storage systems, and security devices, as well as power and cooling equipment that together keep the business running at full tilt.
Connecting all this hardware together is the cabling backbone. With a life expectancy of 20 years or more, it's the most robust part of your data centre infrastructure. Data centre cabling is a significant investment for any business – both in terms of the capital outlay and its impact on the efficiency of the organisation. As any amount of downtime can lead to critical productivity losses that show up all too clearly on the bottom line, data centre cabling can have a dramatic impact on business success.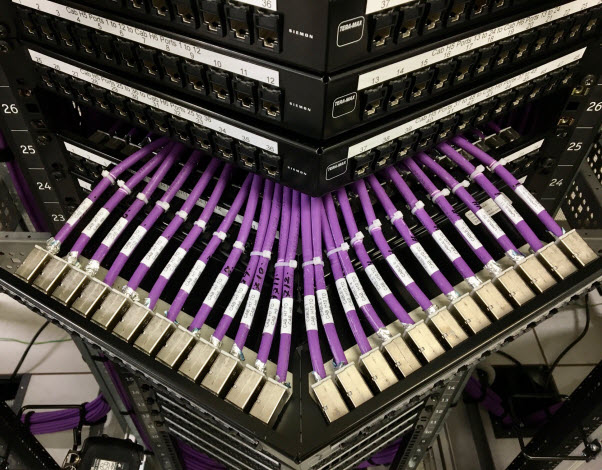 Data centre cabling key to efficiency and reliability
---
Data centre cabling must provide stability and 24/7 uptime. If your business is experiencing slow or intermittent connectivity loss, your data cabling system is probably to blame. As we mentioned in a previous post, cables aren't just cables, poorly installed cabling – whether through lack of experience or an honest mistake – can result in even more expensive, time-consuming network reliability issues.
As a foundational piece of your operational infrastructure and vital to business success, your data centre cabling needs to be engineered using quality components. While it must be designed to offer a competitive advantage and lower cost of ownership today, it must provide the means to support technology upgrades tomorrow.
To ensure performance and durability, it's essential to use a qualified team to implement data centre cabling that exceeds current cabling standards. This will safeguard your data centre for several future generations of technology upgrades. Warranties are also important. When making such an investment, it's essential to know that the product meets the specified requirements.
Certifying mitigates risk
---
Yet, product warranties aren't everything. As the team of installers are responsible for the quality of a cabling installation, it's important to choose a professional team. Using a team of qualified installers who follow a quality approach will ensure certification is built into the installation process, which will detect sub-standard products before they become a major problem in your data centre.
Certification testing as specified in industry standards provides the assurance that all the components meet the required specification and that the workmanship with which the installation was completed will let the components perform as designed.
In addition, documentation forms an integral and necessary part of the certification tests. A warranty that is not based on full certification testing, documented by test results, is probably not worth the paper it's printed on. While certification adds to the time and expense of a data centre cabling project, it makes business sense to certify the quality of the work during installation rather than find connectivity issues down the track.
Certify your data centre cabling
---
The team at Alliance SI has decades of experience performing quality data centre cabling rollouts, certified and tested to industry standards. Get in touch to find out how we can help you.
Contact us to discuss your data centre cabling requirements with one of our experienced account managers.